Transport secretary says, HS2 should suspend clearance of ancient woodland until a government ordered independent review is completed.
The Government has said HS2 Limited, the company managing the project must stop works taking place to clear ancient woodlands until after the Oakervee Review has revealed its findings.
Transport secretary Grant Shapps:
"And while  the review is underway woodland clearance programmes will be halted, unless it is shown as 'absolutely necessary' to avoid major cost and schedule impacts, should the HS2 scheme proceed."
The transport secretary also said: "There is no sense in hiding the challenges HS2 faces, or masking the difficult decisions that need to be taken.
So, as the review continues, we must take a sensible approach and recognise that some works simply cannot be undone later."
In recent weeks Hs2 has faced much controversy with national news agencies across the UK  revealing a number of controversial stories relating to HS2 including a Serious Fraud Office investigation linked to the project.
The HS2 website describes the rail project as the new high speed railway that will be the backbone of the national rail network.
The same HS2 website says the project is "one of the most demanding and exciting transport projects in Europe"
However not everybody agrees.
Mark Keir who is a local gardener and avid anti-HS2 protester from the Colne Valley Protection Camp, Harvil Road told Harefield Radio:
"I live locally and love the area, me and my friends feel it needs protecting for its biodiversity and the knowledge contained within this area of natural beauty. The Colne Valley is the lungs of London, it also supplies 22% of London drinking water. This is our Amazon!
We Have a lot of support locally and nationally, however it would be lovely to get more support and new faces involved. Many people fear getting into legal trouble should they join, there is never any obligation to break the law whilst protesting, people only need to get involved in things they feel comfortable with. You could even just stop by for a cuppa and a chat.
The news of work in ancient woodlands being suspended is great in theory, but contractors can continue if they can show a financial hardship will be caused by stopping work. A lot of the companies involved will be claiming financial hardship. In reality work will continue at a steady rate. We need to work together to stop this. We will stop this destruction, we will stop HS2."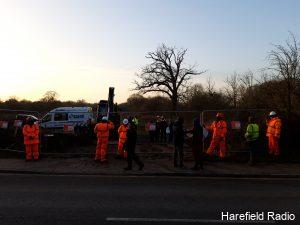 Another Protester from Extinction Rebellion told Harefield Radio: "Complaints and concerns relating to HS2 are often ignored, leaving questions unanswered and those at the top of the project unaccountable."
HS2 Limited provided a statement:  
"We are committed to reducing the new high speed railway's impact on ancient woodlands, and welcome the announcement.
"We must strike a sensible balance between keeping the programme on track, and recognising that some works cannot be undone. We are working with the department for transport and our contractors to assess these areas and their impacts while the review is ongoing."
As opposition grows, many people are left asking if the review will signal the end of the line for HS2.